Expand your view of enterprise tablets with the Zebra ET50 and ET55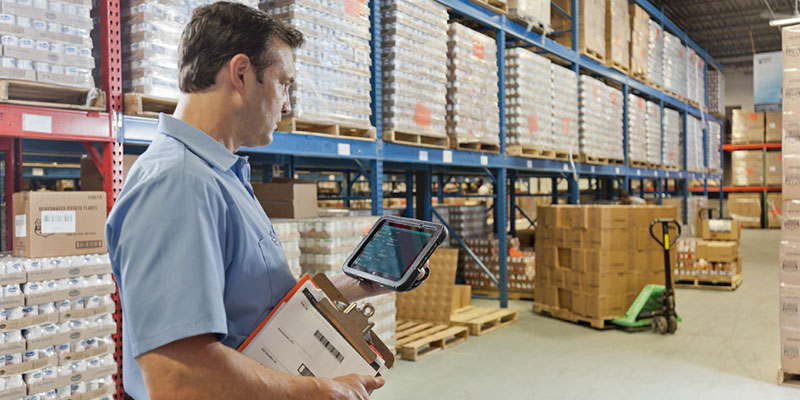 We love our tablets. They're great for so many functions that make life easier. But when it comes to business, a consumer tablet just doesn't meet expectations. The tablet you use to watch your favorite show or keep up with your home's smart technology certainly isn't tough enough for enterprise use. Studies have proven that these consumer-grade devices, while convenient, last about six months in a business environment. A rugged tablet, however, keeps working for three years or more—which dramatically reduces the total cost of ownership.
Stop relying on the wrong tablet for a demanding job. Expand your view of enterprise tablets with the Zebra ET50 and ET55.
Truly rugged. With your consumer tablet, can you drop it on a concrete floor or spill your coffee on it, without fearing the worst? Can you do your computing tasks on it in the rain, snow, or heat? The Zebra ET50 and ET55 feature IP65 sealing and Corning Gorilla Glass 3 with Native Damage Resistance, giving this tablet unsurpassed durability.
Two sizes that let you get very touchy.

The Zebra enterprise tablet comes in two sizes: 8.3-inch or 10.1-inch display. You can go large with your computing landscape. You can also enter data with a stylus or your finger, with or without a glove. Does your personal tablet "read" a gloved finger?

Smart, secure, and manageable for the enterprise. The ET50/ET55 comes pre-installed with Zebra's Mobility Extensions (Mx), which delivers a fortified Android operating system. Mx ensures that your tablet is running on a more secure system with greater device and app manageability. This feature will make your IT team happy because they'll spend less time troubleshooting an enterprise-ready device than a consumer tablet that splits its time between personal and business use.
Advanced scanning is built in. The ET50 and ET55 are designed for business use, which means Zebra incorporated barcode scanner capability. Read barcodes on a screen or printed on paper, even those that are scratched, damaged or poorly printed. Plus, the imaging power of these enterprise tablets includes an 8MP rear camera for photos and a 2MP front camera for video calls.
Robust connectivity. The ET50 is compatible with your existing WLAN, so you can connect anywhere within the four walls of your business. For field service and other mobile tasks, the ET55 supports 4G LTE, the world's fastest cellular data networks.
A battery that never says "die". Don't worry about your battery dying. You can add the optional battery with the expansion pack and the ET50 and ET55 will keep going. Use the hot-swappable feature to change the battery without interrupting your work by having to power down the device.
There's no question that an enterprise-class tablet is not just more rugged but completely purpose-built for the heavy demands of business use, particularly in tough environments, like a plant floor, loading dock, or out in the field. Talk to us at Cal-Sierra about getting a close look at the unmatched functionality, durability, and value of the Zebra ET50 and ET55 enterprise tablets.