As a solutions provider, integrator, and reseller as well as a Premier KwSoft Partner, you can take advantage of tools, resources, and our support system to differentiate your unique value to your customers and the marketplace. Since CCM applications are evolving from supporting static, printed output, and one-way broadcasting to creating dynamic, on-demand communications via multiple channels, your customers will experience meaningful connections through KwSoft Series M/ integrated by Cal-Sierra's nationally recognized brand and quality reputation.
KwSoft Series M/ enables the creation, delivery, storage and retrieval, and analysis of outbound and interactive communications. This application integration focuses on composing, personalizing, formatting, and distributing communications between an enterprise and its customers, prospective customers, and business partners. The software enables customer-focused output in a wide range of digital and analog media, including mobile devices, email, SMS, web pages, and print.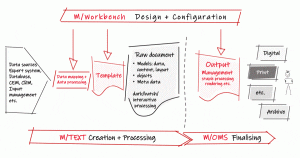 Why KwSoft Series M/ Customer Communications Management?
KwSoft Series M/ Customer Communications Management (Series M/) enables a wide range of the world's leading companies to reduce the cost of communicating with their customers, suppliers, and employees. It also increases the ROI from enterprise business applications and makes all of their printed and electronic output more personalized and customer-focused. Customers include leading global companies such as Raiffeisen Bank International, UniCredit Group, Holsten Brewery, Bayern Services, HDI Global SE.
CONTACT US TO HELP YOU SELECT A SOLUTION THAT MEETS YOUR NEEDS
QUADIENT INSPIRE DESIGN & CONTENT MANAGER

Manage your customer communications for all digital and print channels from a single, central platform with simple drag and drop layout design.
OPENTEXT CCM SOFTWARE

Create customers for life with better customer engagement and personalized multichannel communications with OpenText Customer Communications Management (CCM) solutions, used by thousands of organizations worldwide for over 20 years.